Find your Home's Value

Get a free comparative market analysis of your home's value sent to you with no obligations.
Search and Save Area Properties
Create Personal Searches
Save and Track Favorites
Auto E-mail Notifications
Request Showings
All DFW Listings Available
Client References
Thanks for being my agent. I pursued other real estate agents before talking to you, but felt you were the one to go with. And you proved my conscience right and did an awesome job selling my home in record time. I was always told by friends and colleagues that home selling is a painful process, and you made a BIG difference taking care of everything from start to finish. -- Maddhu Gottumukkala, Wylie

Thanks Ben! I got the package last night and went to the Appraisal office this morning. They lowered from $308,000 value to $290,000 value, so I am very happy. -- Staci Van Wieren, Dallas

Very excited to no longer be a homeowner for a bit. Thank you for all your help and patience!! We are truly thankful that the house sold in such a timely manner and will be glad to send others to you if we have the opportunity. -- Tressa Zepeda, Fort Worth

Ben was extremely knowledgeable and able to answer any and all questions. The Ben Baker Team provided excellent service before, during, and after the home buying process. -- Vincent Fulcher, Carrollton

Ben and Allison are a great team. They did an excellent job in pricing and marketing my house. We had an offer in 8 days. -- Sherri Nissen, Irving

It was refreshing to work with The Ben Baker Team. They were professional, knowledgeable and made us feel welcomed and right at home in -- Anthony and Tracy Lotten, Frisco

Ben's knowledge, professional demeanor, and positive energy are a winning combination. -- Garry and Marsha Champ, Plano

Ben's professionalism and expertise got us a quick, worry-free sale -- Rob Hay, Carrollton

Excellent real estate knowledge, customer service, communication and professionalism. We would recommend The Ben Baker Team to others in need of real estate services. -- Chuck and Nancy Harris, Wylie

Ben was very knowledgeable of the housing market and houses in general. His negotiation skills are excellent and we would highly recommend him to others. --Louis and Vera Burrell, McKinney

Ben helped me buy, then sell the same property. On both occasions, I felt he helped me get the best deal possible. -- Chris Wambi, Dallas

Ben is truly the "one to lean on!" Professional and always putting the customer's interest first. -- Mark and Shawn Greenberg, Dallas
Need More Than a Realtor?Get INFORMATION FIRST with powerful resources & tools ... plus an expert market consultant ... here!


Don't miss out on this free report "Effective Ways to Increase Home Value For Today … or Tomorrow" outlining what to do AND what to avoid re: upping your home's value. To get it, call or text me at 214.801.8800 or send an email to benbaker@kw.com.

Want a personal, no-obligation Custom Market Snapshot? Take a few minutes to sign up for market activity for your neighborhood or a neighborhood you're interested in. Free, powerful information direct from the Multiple Listing Service to you!
D/FW REAL-TIME DASHBOARD: A stock market ticker for listings! Find up-to-the-minute market activity on listings, price, status changes, plus foreclosures ... BY AREA.
Use
Property Search
to locate homes by city, zip code, price and features you want from among all properties listed on the MLS (Multiple Listing Service). Visit
Sell a Property
to get useful preparation tips. Review
Buy a Property
for expert advice on getting started.


To contact us, fill out a no-obligation seller information form or buyer information form, send an email to benbaker@kw.com, or call 214.801.8800. We are first and foremost in the information business and look forward to serving you!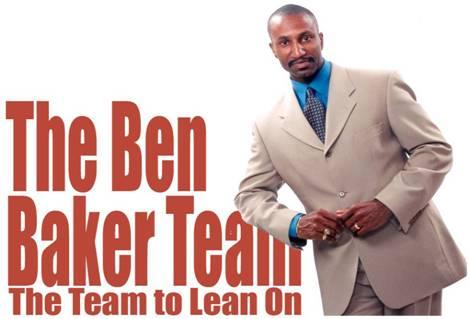 Since 1989, Ben has been in the business of listening to and serving clients seeking to buy, sell, build or lease. With his team, he delivers beyond expectations, proven by the fact that 90%
of his business is repeat or referral clients. You're invited to join those who count on Ben as The One to Lean On!

Intimate market knowledge

Plano native, North Dallas resident

Deep connections to information, services you need
Ben Baker
|
Create Your Badge
Follow Me on Twitter:
twitter.com/benbakerre